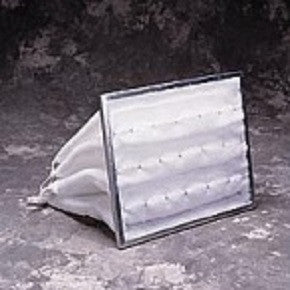 POCKET FILTERS: BAGS, CUBES, SOCKS, & PRE-FILTERS
---
FREE SHIPPING IN THE CONTINENTAL US
**  SELECT PART # / PRICING FOR FILTERS USING THE UP/DOWN ARROW OF "SIZE" SELECTION BOX  **
Product Description
Pre-Filter / Pocket Filters

These extended surface filters are designed with superior performance in mind. They are available in many standard sizes, and can also be manufactured to your specifications.
Available in bag (B), cube (C), and socks (PB) all in single or multiple-pocket configurations
Constructed of reinforced polyester media; with or w/o rigid galvanized steel header.
| | | |
| --- | --- | --- |
| PART # | DESCRIPTION | SET QTY |
| B1391 | 18"x39"x12" 5 Pocket Bag | 4 |
| B2020 | 20"x20"x12" 5 Pocket Bag | 6 |
| B2220 | 24"x24"x20" 5 Pocket Bag w/loops | 4 |
| B2226 | 24"x24"x26" 6 Pocket Bag w/loops | 3 |
| B2226-2 | 24"x24"x26" 6 Pocket Bag w/loops | 2 |
| B2241 | 20"x24"14" 5 Pocket Bag | 4 |
| B2242 | 20"x24"x21" 5 Pocket Bag w/loops | 6 |
| B2243 | 20"x24"x36" 5 Pocket Bag w/loops | 4 |
| B2261 | 22"x26"x15" 4 Pocket Bag | 2 |
| B2264 | 26"x22"x42" 6 Pocket Bag w/loops | 3 |
| B2461 | 23"x46"x12 6 Pocket Bag | 4 |
| B2488 | 23"x47"x8" 8 Pocket Bag | 4 |
| B2488-2 | 23"x47"x8" 8 Pocket Bag | 2 |
| B2488-6P | 23"x47"x8" 6 Pocket Bag | Each |
| B39438 | 39"x43"x8" 8 Pocket Bag | 1 |
| B40518 | 40"x52"x8" 8 Pocket Bag | 1 |
| C152420 | 15"x24"x20" 1 Pocket Cube (No Header) | Each |
| C2020152P-8 | 20"x20"x15" Cube (No Header | 8 |
| PB2560 | 25"x60" Prefilter Sock (fits 12"-15" duct) | 2 |
| PB3645 | 36"x45" AFC Prep Prefilter Sock | 6 |
| PB3645-8 | 36"x45" AFC Prep Prefilter Sock | 8 |
| PB3660 | 36"x60" Spraybake Prefilter Sock (fits 24" duct) | 2 |
| PB4860 | 48"x60" Spraybake Prefilter Sock (fits 30" duct) | 1 |
---
Share this Product
---
More from this collection