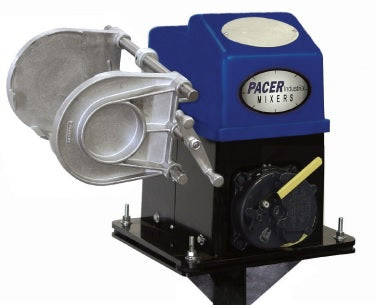 Pacer Single-Arm Explosion Proof Paint Shaker (Pacer-XP)
---
FREE SHIPPING IN THE 48 CONTIGUOUS STATES 
PACER SINGLE-ARM EXPLOSION-PROOF
The Pacer XP explosion proof paint shaker is approved for mixing in a Class I, Group D environment. If you are mixing in a room that is regulated due to hazardous fumes, this is the preferred option. Consult your company safety expert or local OSHA official for a full analysis of your mixing environment rating.
This explosion proof industrial mixer allows you to mix a wide range of products. All Pacer industrial mixers have a multi-size clamping system and mix containers of many shapes and sizes. For double the mixing capacity, we offer the Pacer Dual XP.
The Pacer XP features a fully enclosed motor and integrated power switch. It must be installed by a qualified electrician in compliance with the hazardous environment that the mixing is taking place in. Also, if an explosion proof timer is required, consult your electrician for options.
Depending on user preference and floor space availability, the Pacer XP can be mounted on either a floor stand or counter stand. All Pacer industrial paint shakers may be fitted with optional safety covers for maximum operator safety.
Pacer Dual XP Paint Shaker: Click Here
Pacer Paint Shaker Manual: Click Here
---
Share this Product
---
More from this collection