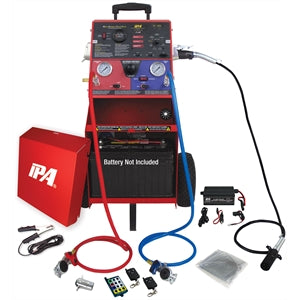 Inovative Products Super MUTT® Deluxe Electrical Tester - IPA9008-DL
---
                     FREE SHIPPING WITHIN CONTINENTAL U.S.
Features and Benefits:
ELECTRICAL TESTING (12/24 Volt Operation)
Power lights: Manually, All-On, Auto Scan, or by Remote Control
Audible and visual alerts: cross, open, overloaded and short circuit indication
Pulsar® mode allows diagnostic repair
Advanced trailer wiring diagnostics
Amperage readout and range (0-20 amps)
Cable testing
Ground failure detection: differentiates between wire and chassis ground
ABS TESTING
Access ABS blink codes
Test ABS fault blink codes via Auxiliary and Brake Circuit activation (i.e. Meritor/Wabco, Bendix® TABS-6 and Haldex systems)
AIR BRAKE TESTING
Performs leak down test on service and emergency lines
Remote control allows observation of slackers to measure and adjust pushrods
Real time, repetitive brake activation to find developing problems and verify leaking servo cans
Features an internal air regulator
REMOTE CONTROL 
(3x) 3-button remote controls test all trailer electric circuitry and air brake actuation, 200+ ft. range
Sync multiple (12) remotes to one unit
9008DL Includes: 
(1) 12-Button Remote Control, (2x) 3-Button Remote Controls, 5' 7-Way Cable, Chassis Ground Cable, External Battery Connector, 8' Glad Hands, 10A Battery Charger, Face/Battery Shield and Rain Cover
Quickly troubleshoot lighting, air brake and ABS systems with the industry's leading trailer tester. This intuitive and durable design is ideal for both on and off-site commercial trailer testing and repairs. The Super MUTT® Deluxe Trailer Tester is a Mobile Diagnostic Trailer Tester that places a load on the trailer's electrical circuits to identify wiring problems while providing remote control operation over both air brakes and lights. Built to facilitate a one-man testing operation, the Super MUTT® reduces guesswork and inspection time to prevent failures that lead to expensive road calls and citations. The remote control allows for repetitive air brake actuation at each axle to reveal developing problems often missed by normal testing procedures. Battery not included.
---
Share this Product
---
More from this collection