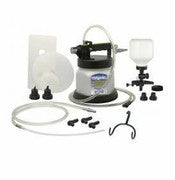 VACUUM BRAKE BLEED KIT - NEMV6835
---
FREE SHIPPING WITHIN THE CONTINENTAL U.S.
Product Description
FEATURES:
Operates with compressed air to bleed up to 2 quarts per minute. Large 1.9 quart capacity fluid collection reservior. Includes automatic Master Cylinder refill kit with 40 oz. reservior. Variable control thumb throttle maintains desired flow rate.
ACCESSORIES INCLUDED:
6' bleed hose
master cylinder evacuation hose
hanging hook and bleed adapters
Model MITMV6835 extends the capabilities of our MIT6830 vacuum brake bleeder by including our MITMVA6832 Clamp-on Auto-refill Kit.
While the bleeder can evacuate up to 2 quarts per minute, the refill kit ensures the master cylinder does not run dry of new fluid, making this kit an extremely efficient method of bleeding hydraulic brake and clutch systems. Features:
Swivel air inlet with quick disconnect.
Two refill kit styles ensure a fit to all makes and models of vehicles.
KIT INCLUDES:
Brake bleeder 6' long bleed hose assembly
4' long fluid evacuation hose
Molded base with screws for bench mounting>Hanging hook 3 Universal bleed screw adapters
Clamp-on style auto-refill kit User Manual # MITMV6835
---
Share this Product
---
More from this collection