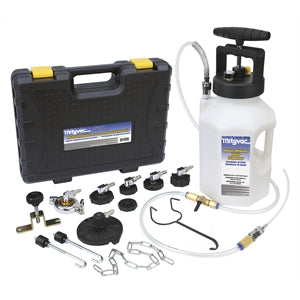 Mityvac Pressure Bleed System For Hydraulic Brake and Clutch - NEMV6840
---
                       FREE SHIPPING WITHIN CONTINENTAL U.S.
Features and Benefits:
Includes seven (7) master cylinder adapters to connect to most American, Asian, and European
Large 1.2-gallon (5-liter) fluid capacity, fluid is dispensed under pressure for smooth continual flow
Pressure gauge indicates fluid dispensing pressure, integrated safety and manual pressure relief valve. ON/OFF and flow control valve are conveniently located near fluid output
Integrated manual pump adds air above the fluid level to prevent aeration
Utilizes push-to-connect, quick-change style accessory connections
Includes custom-molded storage case for adapters. Applications:
Pressure bleeding hydraulic brake and clutch systems.
Includes: 1.2-gallon (5-liter) Fluid Reservoir; Reservoir Lid with integrated manual pump, pressure gauge, and pressure relief valve; 5' (1.5 m) Fluid Dispensing Hose with flow control and auto-shutoff valves; MVA6850 Pressure Bleed Adapter Kit (includes seven master cylinder adapters); Fluid Dispensing Wand; Hanging Hook. User's Manual (English, French, Spanish, German).
---
Share this Product
---
More from this collection