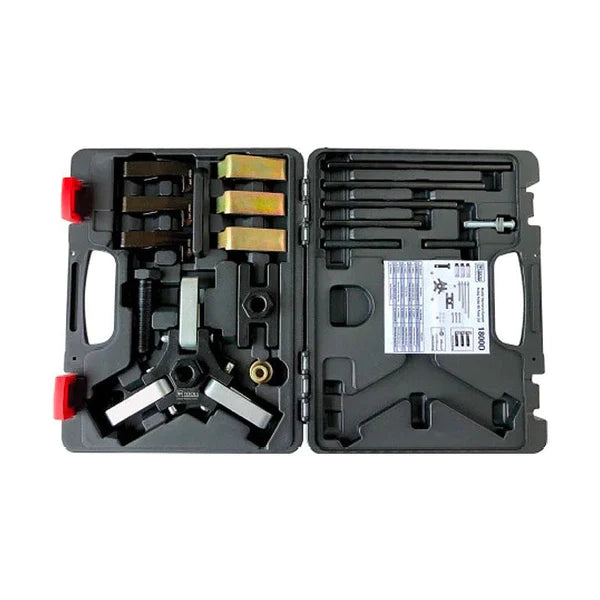 Dent Fix Spot Annihilator Weld Drill Deluxe Kit - DF15DX
---
FREE SHIPPING WITHIN THE 48 CONTIGUOUS UNITED STATES
Description:

Spot Annihilator Deluxe Kit
Kit Content (1) 1000 RPM Spitznagel Spot Weld Drill, (1) 8 Millimeter HSCO Bit, (2) 8 Millimeter Titanium Coated HSCO Spot Weld Drill Bit, (1) 10 Millimeter Titanium Coated HSCO Spot Weld Drill Bit, (1) Bottle of Pneumatic Tool Oil, (1) In-line Oiler, (1) Deluxe Storage Case
The Original Spitznagel DF-15DX Spot Weld Drill that applies the cutting pressure pneumatically. You do not have to push on the drill bit. Our patented valved cylinder applies gentle pressure toward the panel. When the drill bit starts to turn even more pressure is applied. This Smart pressure valve helps prevent breakage of bits and applies correct consistent pressure from the first to the last spot weld, ensuring the long life of your bits by preventing breakage. The 1000-rpm motor makes sure you do not burn up bits prematurely and is perfect for Higher Strength (HSS) and Boron Steels (UHSS). The DF-1690 specialized Tungsten Carbide drill bit is needed to drill through Boron steels. The ultimate spot weld drill lets you set the depth. Using the large blue adjustment ring you may set your drilling depth. Drill through only the top panel and leave the underlying panel clean and ready for the replacement. No plugs to grind off and no pilot drill holes to fill. The DF-15DX is our 1000-rpm depth adjustable drill with large 3 inch tall C-clamp (DF-SPD48L). It will arrive with one 8.0 mm HSCO drill bit, two 8.0 mm Titanium Coated HSCO bits, one 10.0 mm Titanium coated HSCO bit, one-year warranty and our guarantee that this will be one of your most used and beloved tools. This tool can drill through UHSS or Boron Steel when used with the DF-1690 Tungsten Carbide Bits. We have lowered the RPM on all our Spot Weld Drills so that our new bits for Boron cut more efficiently. Ultra High Strength (UHSS) also known as Boron Steel is used by many vehicle manufacturers to lighten the vehicles weight and increase gas mileage while increasing structural strength. Boron steel is about 3 times stronger than regular High Strength Steel. Thus you can form it half as thick yet increase crash worthiness. Volvo is an early adopter and heavy user. Typical locations are in structurally significant locations. Intrusion beams, inner core of the B-Pillar, bumper and cabin reinforcements are all likely places that contain this Ultra High Strength Steel. The drill weighs 5.1 lbs with C-Clamp and bit.
---
Share this Product
---
More from this collection