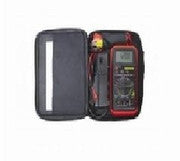 DELUXE AUTOMOTIVE DMM - ES585K
---
FREE SHIPPING WITHIN THE CONTINENTAL U.S.
Product Description
This is a professional grade tool used for diagnosing electrical, computer and engine problems on any vehicle. Among its testing capabilities are: AC/DC Volts, AC/DC Amps, Ohms, RPM, Dwell, Frequency, Duty Cycle, Temperature, Continuity and more. Unit includes two sets of test leads, RPM pick-up, temperature probe, protective holster and instructions manual.
FEATURES
:
Analog Bargraph Display and Large Digits
Measures in Volts, Ohms, Amps, RPM, Frequency, Temp., Duty Cycle, Dwell, Continuity & more!
42 Test Ranges
10 Meg/Ohm Input Impedance
Fuse protected, safety leads and jacks
Can be used with Protective Holster (#634)
DC Volts
: 0-320mV, 3.2V, 32V, 320V, 1000V
AC Volts
: 0-3.2V, 32V, 320V, 750V
DC Current
: 0-320uA, 3.2mA, 32mA, 320mA, 10A
AC Current
: 0-320uA, 3.2mA, 32mA, 320mA, 10A
Ohms
: 0-320, 3.2K, 32K, 320K, 3.2M, 32M
RPM
(Tach): 0-3200 RPM, 12,000 RPM
Dwell Angle
: 3 cyl, 4 cyl, 5 cyl, 6 cyl, 8 cyl
Duty Cycle
: 0-90%
Frequency(Hz)
: 0-320Hz,3200Hz, 32kHz
Temperature
: -20C to 320C, -20C to 750C -4F to 320F, -4F to 1400F
Continuity
: Audible Beep
Diode Test
: Test current 0.6 mA, Open circuit voltage 3.0V
---
Share this Product
---
More from this collection